Fernando Moresco
Business Director for Medication Delivery Solutions (MDS)
We are the makers of possible: Honoring your Calling through a Career at BD
What motivates you to come to work every day?
For Fernando Moresco, Business Director for Medication Delivery Solutions (MDS) in Brazil, it is the people, possibilities, and purpose that are realized through his work there.
Fernando's journey with BD began in 2005 when he worked as a Laboratory Technician at Hospital São Francisco, Hospital São Lucas, Hospital Ribeirânia, and Instituto Adolfo Lutz (all based in Ribeirão Preto). He performed blood collections and processed Lab Exams (hematology, biochemistry, immunology, and microbiology).
Fernando was providing clinical education and training sessions for new users and using the BD Vacutainer® for blood retrieval work. It was during his tenure there that Fernando found himself at a crossroads. Did he want to support local hospitals or laboratories or use his calling to make a positive impact around the world?
Fortunately, Fernando chose the latter and decided to pursue a career at BD, and today he is leading a team of more than 100 BD associates, who are also passionate about our purpose of advancing the world of health ™.
Maximizing personal growth possibilities through development opportunities at BD
BD associates receive personal and professional advancement opportunities that empower many career paths; Fernando's career experience is one example. At an early age, he had a vision for a career that would impact the health of the world.
After completing his bachelor's degree in Biomedicine from the University of France (UNIFRAN) and obtaining his consultancy experience, he officially joined BD in 2005 as an Educational Trainer. Through a lot of hard work and relationship building Fernando has been successfully able to navigate three successful careers all within the same organization: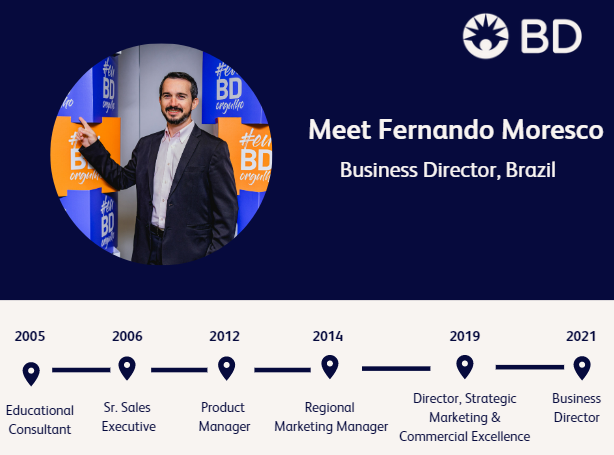 Fernando believes that when people find a purpose that resonates with them, it can be a powerful motivator to take action, help achieve their goals, and keep them engaged for the long term. For this reason, when Fernando, who has been with BD for 17 years, is asked why he has chosen to remain with BD for so many years, his answer is simple:
"As a large organization, with varying different business units and segments, we have many opportunities to transition and learn from different areas within the same company. So, while on paper it may look like I've been at the same company for nearly two decades, I've explored many opportunities without ever leaving the company", said Fernando.
Authentic passion is contagious
BD cultivates an inclusive and collaborative culture, where we help each other be great, which in turn, helps the organization deliver on its purpose. BD associates are passionate about the company's purpose, which can often lead to greater engagement, innovative thinking, and elevated levels of productivity. After having three distinctive career experiences within BD, sitting in a variety of areas within the company, Fernando feels invigorated when he connects with his team and other associates.
"The most transformative experience I've had at BD is getting to know our people. Connecting with our BD associates from different countries, and hearing about their passion for solving customers' challenges; Their passion has continued to inspire me to do a better job, every day," explained Fernando.
A Quick Q&A with Fernando:
What is the best thing about your role?
When I reflect on my purpose, to positively impact the health of people's lives, I recognize that BD grants me a global platform to live it out. I am also able to apply my education to impact critical real-life problems in our healthcare space which is motivating to me in everything that I do, personally and professionally.
What are some keys to your success?
BD takes our career development seriously, offering robust development programs including BD's formerly known ECE, Early Career Experience, a 24-month program. This program was focused on accelerating the development and career networking opportunities of emerging, early-career associates. In addition to mentorship and coaching opportunities, in this program, we had the chance to learn from senior leadership, gain outside perspectives from other leading organizations in other industries, and attend business knowledge forums in international locations. There are many development programs like this at BD, where associates learn from leaders, which is incredibly effective.
How would you describe BD in one word and why?
Amazing! That's my first reaction to that question. There are so many positive words that come to mind when I think about my experience here, and amazing is a good summary of it all. "Challenging" would be my second choice, as I am always challenged to improve my performance -- every day. As a company that is continuously looking to evolve and advance the world of health ™, we have to acknowledge that regularly looking for opportunities to make long-lasting profits and impact is not easy, but it is necessary.
How would you describe the culture at BD?
Open and inclusive. I've met with some of our executives on the C-Suite level, which is unheard of in many large organizations like ours. We are also less formal than perhaps other big companies. I get to show up as my true authentic self, which allows me to remain inspired and engaged.