Overview
Technology and Global Services bring together IT, Shared Service Centers and Workplace Solutions into one strategic, integrated and service-oriented organization to become an accelerator of technology, process excellence and workplace solutions to drive BD's Purpose of advancing the world of health™. By integrating the solutions we offer, we are better able to serve BD. That's why, within our team, we believe in a connected way of working.
Our areas of expertise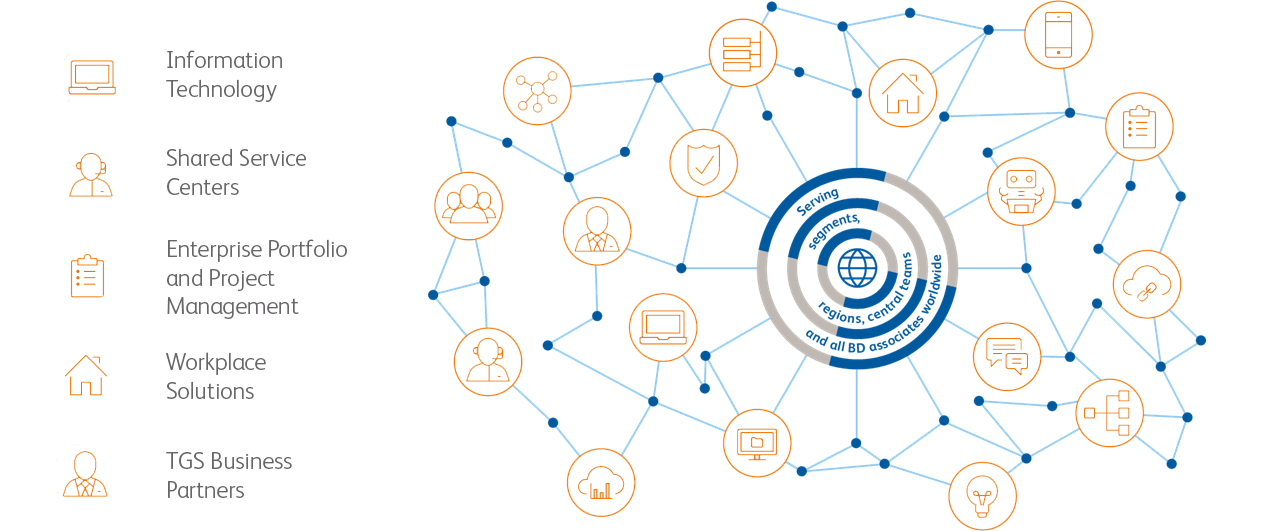 What does this mean for you?
For you, this means a variety of development opportunities. In Information Technology (IT), you can provide our associates with the solutions needed to work productively and empower their teams. Shared Service Centers are the perfect way to focus on the improvement of efficiency, harmonization of processes and transactional excellence. To be part of driving effective project leadership and value realization, you can consider joining the Enterprise Portfolio and Project Management team. And to ensure safe, supportive and cost-efficient workplaces at 70+ BD locations around the world, we are constantly seeking experts in Workplace Solutions.
As a strategic and service-oriented organization, we partner with our businesses, regions and central teams. To ensure that we serve BD in the best possible way, our TGS Business Partners are single points of contact for all our offerings.